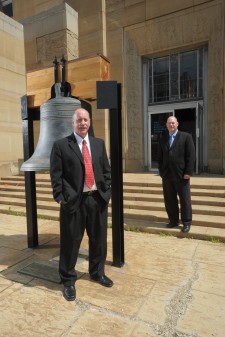 2017 National Small Business Development Center of the Year
Hamilton, OH, March 22, 2017 (Newswire.com) - The United States Small Business Administration (SBA) has selected the Butler County Small Business Development Center (SBDC) as the 2017 Small Business Development Center of the Year. This annual recognition awards the SBDC that exemplifies excellence in several different categories including business starts, capital infusion, jobs created, and jobs retained. The Butler County Small Business Development Center is staffed by Director, David Riggs and Associate Director, Mark Lankford - both are Certified Business Advisors. Over the past three years, The Hamilton Mill based center has generated over $20 million in loan funding to small businesses.
David Riggs, Butler County SBDC Director remarks, "We are truly honored to accept this award. When you consider the advisory talent at the Centers across Ohio, let alone the country, Mark and I are quite humbled. The support we receive from the SBA, the State of Ohio, The Hamilton Mill, the City of Hamilton, and the City of Middletown makes all of this possible. Our Center is committed to the mission of accelerating Ohio's economy by helping people start, sustain and grow their businesses."
The SBDC network was signed into law in 1980 and since then the network has grown to over 1,000 centers.  America's SBDC network leverages a partnership that includes the U.S. Congress, SBA, the private sector, and the colleges, universities and state governments that manage SBDCs across the nation. SBDCs provide management and technical assistance to an estimated one million small business owners and aspiring entrepreneurs each year.
"More than half of all Americans either own or work for a small business, and they create about two out of three net new jobs in the U.S. each year. I couldn't be prouder of all the awardees this year – they are working to grow small businesses, create 21st century jobs, drive innovation, and increase America's global competitiveness. It is an honor during National Small Business Week to honor and celebrate their hard work and success," SBA Administrator Linda McMahon said.
The SBDC at The Hamilton Mill helps build small businesses in its service area through a number of programs and activities, combined with strategic partnerships with other business-oriented entities, to provide a strong entrepreneurial assistance environment in Butler County, Ohio. Below are some examples:
Kaufman Foundation FastTrac ® NewVenture Business Entrepreneur training program. Qualified clients attend these 10 week classes designed to assist entrepreneurs in developing their business plans and make successful decisions in the startup process.
The Butler County SBDC serves as a direct referral resource to The Hamilton Mill's business incubator and Pipeline H2O accelerator program. As part of this program, high-tech and water-related startups can access funding, manufacturing and technical assistance from a variety of resources.
The SBDC at The Hamilton Mill combines with City Economic Development Departments and private development resources to engage client businesses in local promotional events and assistance programs.
Hamilton Mill Executive Director Chris Lawson, stated, "We recognize that entrepreneurship is the foundation of our regional, state and national economies. We take great pride in sponsoring this award winning SBDC team because they build that foundation everyday." Chris further added, "This award represents a triumph in outcome driven collaboration between federal, state, and local entities including the Small Business Administration, the Ohio Development Services Agency, The Hamilton Mill, the City of Middletown, and the City of Hamilton."
This award coincides with first ever #SBDCDay - a national celebration of the accomplishments and achievements of the Centers across the country. You can read more about this celebration here.
Source: The Hamilton Mill
Share: